From August 1837 to July 1839 Wilhelm Richard Wagner (1813.22.05 – 1883. 13. 02) worked as the chief conductor at the City Theater in Riga.
Altogether he conducted twenty concert-stagings in Riga, including Vincenzo Bellini's I Capuleti e I Montecchi, Mozart's Die Zauberflöte and Beethoven's Fidelio. The beginning of really creative work was Bellini's Norma, also staged in this period. In Wagner's time most of the repertoire was devoted to Gluck, Mozart, Cherubini, and Spontini. The theater was opened with Carl Blum's opera Marie, Max und Michel, which testifies to the broad view Wagner took of the music world. In Riga, Wagner began the work on his opera Rienzi.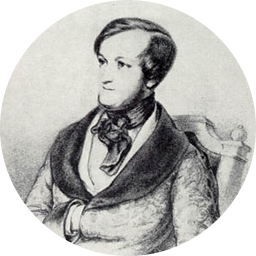 Life in Königsberg and Riga had a powerful effect on the composition of Rienzi, even though at the beginning Wagner was convinced that it would be a failure. As for the impact Wagner's stint in Riga left on music, Rienzi and its contents came into play, because it is a true Riga opera where the plot related to Wagner's own experiences. The idea for the libretto arose already in 1837 in Dresden, the libretto was developed in Jelgava (Mitau). Composition of the music began immediately.
The first act was composed in 1839 in Riga and the second six months later in Paris, whereas the last three were created after a long time in Paris in 1840. The Riga period was important for the development of Wagner's talent, the formation of his views and his creative quest.
Yet it can be concluded about the Riga period that the practical work at the theater had a positive impact on the amplification of Wagner's creativity. He became experienced as a conductor and became one of the best. He also had a chance to get acquainted with the provincial musical scene, which was in fact more progressive than he believed. After all, Rienzi was conceived in Riga. He developed his interest in historical plots and showed great understanding of them.
Despite his overall dislike of the Riga musical scene, in his book My Life, Wagner has positive things to say about it. His attitude was also expressed in the architecture of the Bayreuth theater, which resembles the theater in Riga. Riga also seemed to have inspired Wagner's use of mythological characters in his operas and other works.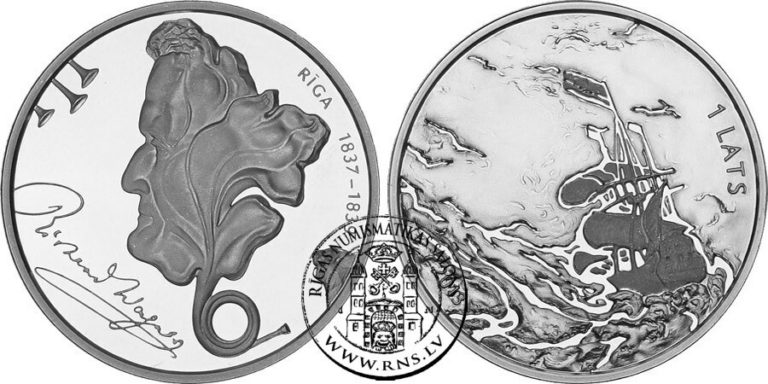 Silver coin: Latvia 1 Lats "Richard Wagner" 2013 "The coin of the Year 2013"
Copyright©2023Milonga Riga